Plants of the Castlemaine District
Drain Flat-sedge - introduced (*Cyperus eragrostis)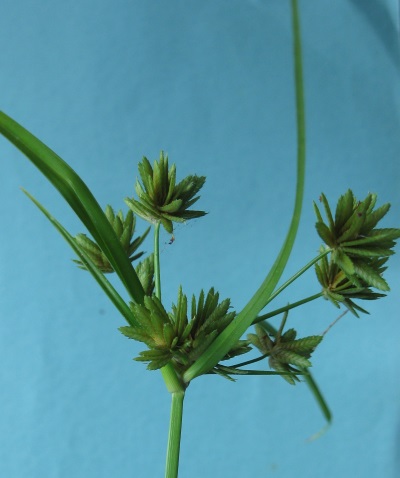 Other names: Umbrella Sedge.
Family: Cyperaceae (Sedge family).
Native of tropical America.
Occurrence: A widespread and common weed, usually growing in damp places e.g. in drains and gutters and near streams. It is sometimes a lawn weed and invades damp bushland areas.
Identification:
the flowers are clustered into spherical clumps; each cluster is on a short or long stalk
the flowers are green and dry to a straw colour
there are long leaves (bracts) of unequal lengths radiating from the base of the flowers
the main stalk is roundly triangular
the plant usually grows to about 30 cm. In good conditions it may reach a metre.
In dry conditions it may die down, and re-shoot when moisture levels are higher. It is a perennial which spreads from seeds and by underground shoots.
Similar species: There are several moderately common native Cyperus species. The native species are often taller, and have brown to dark brown flowers which are often on more slender stalks
Photos 1: The flower clusters are on long or short stalks.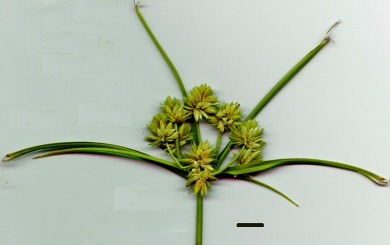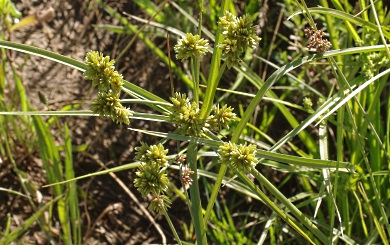 2: Drain Flat-sedge, showing the flower clusters. The flowers are beginning to dry off to a straw colour. The bracts have been partly eaten.
3. A lawn weed.
---