Plants of the Castlemaine district
Tall Fleabane and Flax-leaf Fleabane - introduced
(*Conyza sumatrensis and *Conyza bonariensis)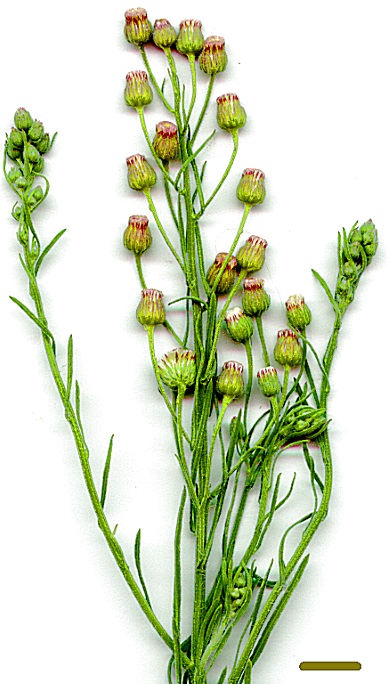 Tall Fleabane (*Conyza sumatrensis)
Flaxleaf Fleabane (*Conyza bonariensis)
Family: Asteraceae (Daisy family).
Native to America.
Occurrence: widespread and common summer-flowering weeds. Common on roadsides and townships, nature strips and waster areas.
Identification:
fleabanes are usually erect branched plants to about a metre
the branches grow from near the the base of the plant or in the upper part
there are numerous flowers which have inconspicuous petals
the leaves are narrow and hairy
the outside of the flowers are green often tipped with purple.
Fleabanes when mown may grow to a low, multi-branched plant.
The two species are common.
Flax-leaf Fleabane
(
*Conyza bonariensis
)
is branched at the base
the flowers are 5-6 mm long
the flower spray not pyramid-shaped.
Tall Fleabane (*Conyza sumatrensis)
is branched in upper part of the plant
the flowers are 4-5 mm long
the flower sprays are pyramid-shaped
it is often taller (to 2 metres).
Photo: Flax-leaf Fleabane. Castemaine.
---