Is it a native?
Rock Ferns - natives
Green Rock Fern (Cheilanthes austrotenuifolia) and
Narrow Rock Fern (Cheilanthes sieberi)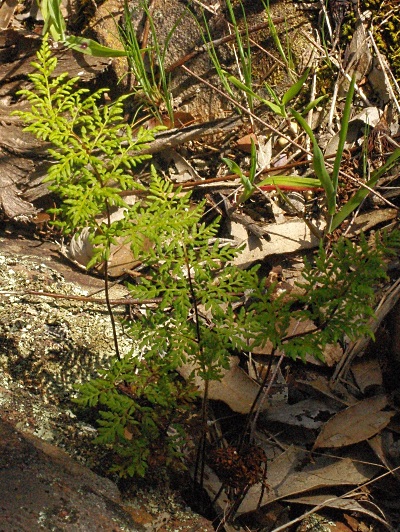 Family: Adiantaceae (Maidenhair family).
Natives of Australia.
Occurrence: Widespread, particularly on rocky hilltops. Both grow in grasslands, grassy woodlands and in forest areas.
Identification:
they resemble small bracken ferns
height is usually to 30 cm.
The two ferns are sometimes difficult to distinguish.
Green Rock-fern (Cheilanthes austrotenuifolia)
The fronds (leaves) are broad and divided into segments which are again once or twice divided into leaflets.
The leaf-stalk has scattered pale scales.
The scales are a uniform pale colour.
Narrow Rock-fern (Cheilanthes sieberi)
The fronds are narrow and twice divided.
The frond divisions are widely spaced.
The leaf stalks have scattered hairs (not scales).
The scales at the base of the leaf stalk have a dark streak.
They are perennials. Both are resurrection plants i.e. they die down in hot weather, and quickly become green again with adequate rainfall. Narrow Rock-fern is reputed to be poisonous to stock.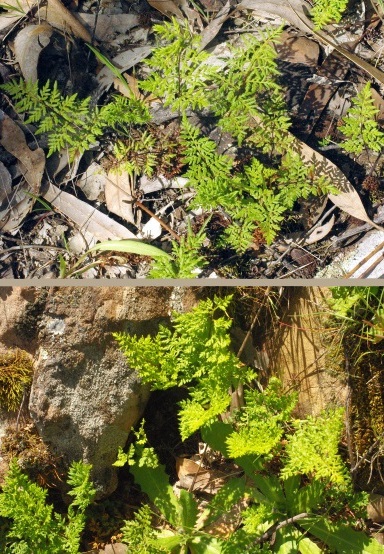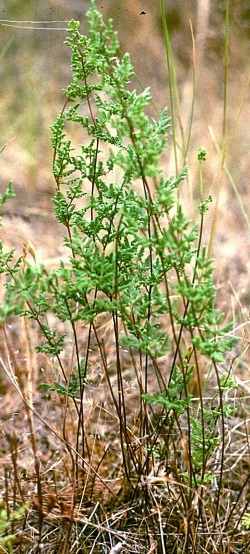 Photos: Top: Green Rock Fern. 2, 3 left: Green Rock Fern. 4, 5 right: Narrow Rock Fern. All: Castlemaine district.

---