Plants of the Castlemaine District
Shivery Grass - introduced (*Briza minor)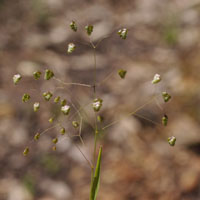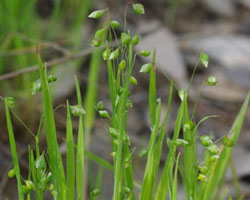 Native to southern Europe and western Asia. Annual. C3.
Family. Poaceae (Grass family).
Other names: Small Quaking Grass.
Identification:
it has an open loose flower cluster
the glumes are shorter than the spikelets
the spikelets have 3-8 florets
the leaves are flat
the ligules are 2-10mm long, membranous and blunt.
Generally uncommon in forests and grassland. It is similar to the much more common Shell Grass. It differs in the smaller spikelets which are 2-5mm long. Each spikelet has fewer (3-8) florets, and the spikelets are often erect or almost so (distinguishing it from Shell Grass which has nodding spikelets).
It is an environmental weed.
Briza: a kind of rye; minor: smaller, lesser.
---