Plants of the Castlemaine District
Creeping Bossiaea - native (Bossiaea prostrata)
Family: Fabaceae (Pea family).
Native of Australia.
A delicate trailing plant. It can easily be overlooked when not in flower. The flowers are on slender stalks rising from the leaf bases.
Identification:
it has a scrambling habit
it has oval 1cm leaves
it as a prominent mid-vein on the under-surfaces of the leaves.
It is uncommon locally.
Bossiaea: after Bossieu de La Martiniere, who was botanist on the La Perouse expedition 1785-88; prostrata: flat on the ground.
Photos 1: Creeping Bossiaea in Kalimna, Castlemaine. 2: Along the water channel, Elphinstone.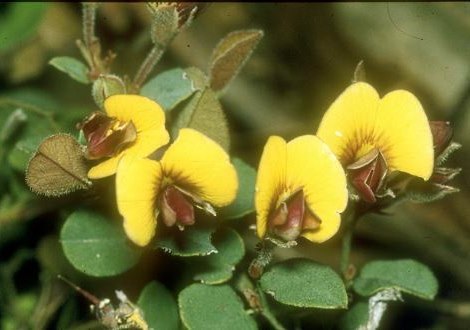 ---