Is it a native?
Crested Spear-grass - native (Austrostipa blackii)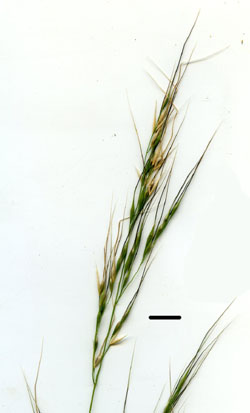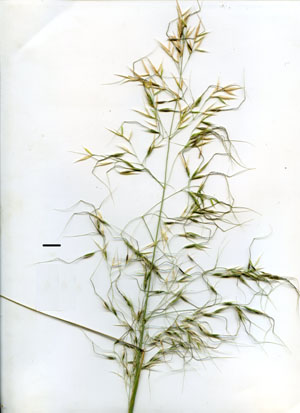 Alternative names: Stipa blackii.
Native. Perennial. C3.
Family. Poaceae (Grass family).
Identification:
it has a slender contracted panicle
spikelets have a single, awned lemma
the lemma body is shorter than the glumes
the leaf blade is flat or inrolled
the flower clusters are to about 30cm long
the nodes (along the stalk) have dense silky hairs
the lemmas are 5-7.5mm long (excluding the awn), deep reddish brown (when mature), and with light-brown hairs
the glumes are 10-18mm long
the tips of the glumes are often torn between the veins at the tip
the awns are 30-40mm long and 6-10mm to the first bend
the ligule is 0.3-1.5mm long, minutely hairy and with longer side hairs.
Crested Spear-grass is uncommon, but may be locally abundant e.g. at Joyces Creek. It is a tall grass (a metre or more).
There is a cluster of hairs at the end of the lemma (at the base of the awn). The hairs are are 2-3mm long, and similar in thickness to those on the lower part of the lemma. The awn is twice-bent.
blackii: in honour of J.M. Black 1885-1951, author of Flora of South Australia.
1, 2: Flower clusters, showing a freshly opened spray and a mature spray. Joyces Creek. 3: Lemma. The hair tuft at the summit of the lemma is over 2mm long.
---