Is it a native?
Cane Wire-grass - native (Aristida ramosa)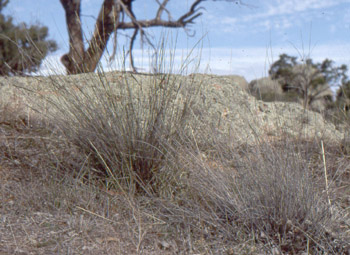 Native. Perennial. C4.
Family. Poaceae (Grass family).
Identification:
it has a narrow but loose flower cluster
there is a single, awned lemma, longer than the glumes
the leaf blade is inrolled
the ligule is densely hairy, 0.5mm long, often with longer hairs at the sides.
It is an erect grass (to a metre). The lemmas divide into three awns. The awns are about a centimetre long. Uncommon.
As in other aristidas, the lemma divides into three awns. Cane Wire-grass differs from the much more common Brush Wire-grass in that Cane Wire-grass has shorter awns (about 1cm long), is an erect grass, and the flower clusters are not brush-like.
Arista: an awn; ramosa: having many branches.
1: Cane Wire-grass is an erect plant. Terrick Terrick National Park. 2, 3: Narrow flower clusters with three-awned lemmas. Sutton Grange.
---