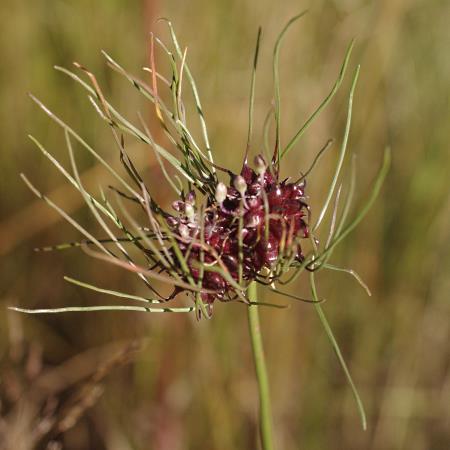 Other names: Wild Garlic.
Family: Alliaceae (Allium family). Formerly included in the Lily family.
Native of Europe and the Mediterranean region.
Occurrence: A widespread and common weed of roadsides and farmland. It may be locally abundant.
Identification:
the flowers are in terminal clusters, with small purplish-coloured bulbs (bulbils)
the leaves are hollow and cylindrical
the young leaves are often strongly curled
the plant has a strong onion-like smell.
Wild Garlic can contaminate milk and meat. It may spread from seeds and from the bulbs. It is a noxious weed and Regionally Controlled in North Central Victoria.
The name vineale means "growing in vineyards", so Crow Garlic is presumably a weed in the northern hemisphere as well as in Australia.
Photos: Above R: Flower head with bulbils. Forest Creek, Castlemaine. The bulbils hace started to shoot.
Below 2: Complete plant with bulb. Forest Creek.
3: Curled leaves of young plants. Yapeen-Muckleford Road, Guildford
4: The heads of bulbils. Forest Creek.
5: Grassland infested with Wild Garlic. Muckleford. The clusters of bulbils are prominent.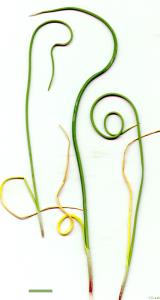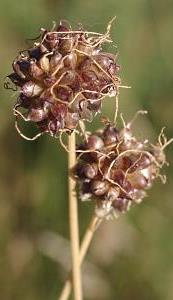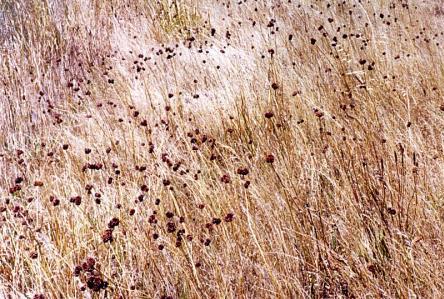 ---